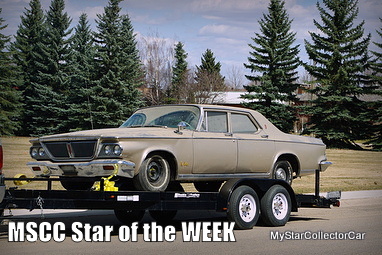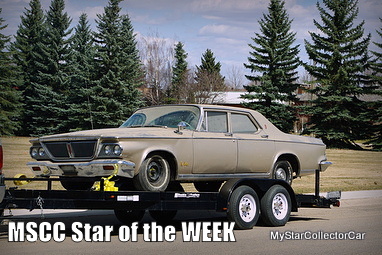 MSCC MAY 3 STAR OF THE WEEK: THE LAST RIDE FOR A 1964 CHRYSLER 4-DOOR SEDAN
The car restoration process is unlike any other process in the world because it will sacrifice more for less.
Car guys will take a perfectly good car and gut it to save a car on life support.
They'll do it because the hardline caste system in the world of old rides dictates that a 4-door sedan should be a sacrificial lamb to save a much more desirable two door hardtop.
It's not logical and it's not pretty but this is the reality of the donor car.
This MSCC Star of the Week survivor 1964 Chrysler was loaded up for its last ride a few weeks ago.
MSCC MAY 2 STAR OF THE DAY: POST WAR STYLE DEFINES A CLASSIC CHEVY PICKUP
Chevy pickups really turned the post-war styling corner in '48 with the introduction of the new look trucks.
These trucks were a clear departure from the pre-war design of the '46 and '47 headlights on fender Chevy pickups so they were instantly in demand.
Chevy would keep this design through to 1954 before the wildly popular '55 Chevy truck hit the showrooms.
This MSCC Star of the Day Chevy pickup at an August show is a clear example of why these trucks are still cool over 60 years later.
MSCC MAY 1 STAR OF THE DAY: '54 PONTIAC SEDAN DELIVERY—A LOOK BACK IN TIME
There are two ways to study history.
You can rent a time machine and head back to an era when the cool cars of today were brand new.
Or you can go to an archeological dig and study history as it exists today.
This MSCC Star of the Day '54 Pontiac Sedan Delivery is definitely an example of how one piece of history looks today.
MSCC APRIL 30 STAR OF THE DAY: AN AUSTIN MINI MAKES A GRAND ENTRANCE
Minis were known for a lot of things when they debuted back in 1959.
They made sense in Europe where smaller cars had been a way of life forever but they were also well received in North America where giant cars were engrained in the culture.
People loved these little cars for their sportiness and warm puppy looks no matter where they were on the globe.
They were not grand entrance cars back in the day but this MSCC Star of the Day Mini made a grand entrance last Sunday.
MSCC APRIL 29 STAR OF THE DAY: 2002 MONTE CARLO DALE EARNHARDT EDITION-HAPPY BIRTHDAY INTIMIDATOR
MSCC Stars of the Day are typically older iron.
In fact, this car may be the newest ride ever featured as a Star of the Day.
This MSCC Star of the Day 2002 Monte Carlo SS Dale Earnhardt Sr Edition was picked for a good reason.
The Intimidator would have been 64 today.
MSCC APRIL 28 STAR OF THE DAY: 1960 PONTIAC STRATO-CHIEF WAGON—A TALE OF TWO COUNTRIES
Cross border model differences between Canada and the US were a huge part of the 50s and 60s.
Mopar guys are well aware of the Plodges (Canadian Dodges with Plymouth sheet metal from the A-pillar back).
Ford guys know all about the Meteors (Fords with Canadian market specific badges).
Pontiac guys know all about Canadian Ponchos like this MSCC Star of the Day '60 Pontiac Strato-Chief wagon at a show last Sunday.
MSCC APRIL 27 STAR OF THE DAY: 426 MAX WEDGE '63 PLYMOUTH-THE PUNCH YOU NEVER SEE COMING
The '63 Plymouths were fairly sedate cars because they were built for family guys.
Those kind of buyers valued reliability, room and cost over style.
That Clark Kent look ambushed many a contender on the street who assumed every one of these vanilla Plymouths had a slant-six under the hood.
They never saw the punch coming and even if they did, it didn't matter when they ran up against a car like this Star of the Day 426 Max Wedge '63 Plymouth.
For past MSCC Stars of the Day please follow this link.
CLICK HERE to Like us on Facebook
CLICK HERE to Follow us on Twitter
CLICK HERE to Follow us on Pinterest
Please re-post this if you like this article.
Star of the Day page sponsored by Southside Dodge