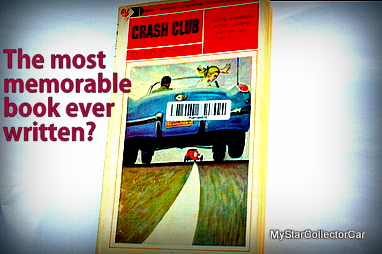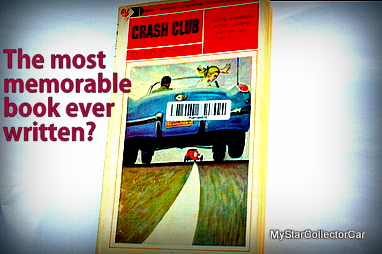 I read a lot of books when I was a kid and I remember a fair number of them for various reasons.
'Old Yeller' is unforgettable because of Old Yeller's untimely ending after a date with a shotgun and Tom Sawyer is memorable for his fake funeral.
None of those endings stacked up against the ending to Henry Gregor Felsen's 'Crash Club'.
This book left a lifetime impression. I was blown away by the crash scene near the end of the book but the lead up to that was a mix of teenage soap opera, moral lessons and a few cool cars.
'Crash Club's' plot was set in a fictional town called Raccoon Forks and featured a group of high school kids who had daily drag races to set up the pecking order in the school.
This was basically a "win and you're in" game and the top dog was a guy named Mike Revere. Mike was at the top of the heap in these drag races so he was the big man on campus at a small town high school in late 50s America.
These risky races were approved by Principal Enos Lamont even though he wasn't completely onside: "Compared with the problems other principals and superintendents were facing this morning the addiction to drag-racing gaudy cars was almost something to be grateful for".
'Crash Club' was a study in 1950s high school life but one of the biggest disappointments was the lack of detail in the cars. The hero's car was described as a "bronze coupe with black arrows painted on its sides and surfaces" and he was racing a "white coupe decorated with a playing card pattern of red diamonds and hearts and black clubs and spades—there wasn't much else for detail.
My reaction was the same in 2015 as it was decades ago when I first read this book.
Would it have killed Felsen to tell the reader what these guys were driving?
This book moves along at a leisurely pace until a black Chevy shows up. Felsen doesn't positively ID this car but clearly (based on the copyright of the book) this car is a '57 Chevy. Felsen introduced it this way: "A jet-black car gleaming as though it had been polished with oil, turned in at the school parking lot and headed toward an empty slot. The car was a new Chevrolet hard-top, completely de-chromed, with white sidewall tires and a Continental kit. The driver was David Galt".
This '57 Chevy is even more impressive because of these lines: "What's so special about a Chevy?" Mike asked contemptuously, irritated that he'd been caught gaping". The answer is here, "Look at the badge on the front fender man. It's a fuel injection job".
The final clue about this fuelie '57 is found in these lines about a drawing on the continental kit wheel cover: "In the center was a small, beautifully executed coat of arms. Against a field of blue there was a white plumed knight's helmet and, opposite it, a golden gloved hand holding a white lance. Below, as though written on a crimson streamer were the words, 'Aut Vinci Aut Mori'.
These words are explained in a conversation: "You dig Latin Sissy," Pud said. "What's he advertising?" "It says," Sissy reported, "Either to conquer or to die". "He drags," Stretch Adams said hollowly, "He drags."
There's no real sound reason to bore you with the details of the plot because it's long and a little preachy with occasional interesting parts like this part when the Crash Club gets real after 'Outlaw' Galt demolished an out of town kid's hardtop with his car.
This is where the '57 fuelie Chevy pays a price: "The entire front end of his car was a shambles, the front bumper had been torn off, his tail pipes had been knocked off and were dragging, his trunk lid had flown open. The ground between Galt and the hardtop was covered with oil and water and broken glass".
Every plot has a famous final scene and 'Crash Club's' is pretty spectacular after Revere has a run-in with out of town punks. Mike drives his dad's brand new '57 Ford retractable hardtop into a train after he swerves around their cars and the results are catastrophic for 'Outlaw' Dave Galt in the back seat: "He saw Outlaw's legs and his body. But when it came to where Outlaw's head should have been there was only a mass of jagged, twisted metal."
The rest of the book dwells on the life lessons Mike learned after his brutal display of bad driving but the real stars of this book are the cool rides.
Forget Shakespeare-the fuelie Chevy, the hot rods, and the massive destruction of the Ford retractable hardtop made this book's ending one for the ages.
Jerry Sutherland
CLICK HERE to Like us on Facebook
CLICK HERE to Follow us on Twitter
CLICK HERE to Follow us on Pinterest
Please re-post this if you like this article.