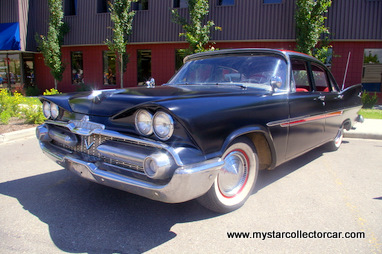 The late 1950s were full of fins and chrome and nowhere was that more evident than at Chrysler Corporation thanks to a legendary designer named Virgil Exner.
Jeff Rallison is a younger guy, but he was definitely captivated by these incredible fin cars.
'In 2010, these cars look like something out of a 50s sci-fi movie to the casual observer, but Jeff though he could tweak the look of his car on a budget-old school car guy thinking at its finest.'
Plus the '59 Dodge had to be a dependable driver that could handle a holiday trailer.
Mission accomplished.
The Regent is a great example of an entry level "Plodge" (Canadian Dodge with a Plymouth body from the windshield back)-it was part of a package that included two other 2-door sedan cars.
This 1959 Dodge was an extremely barebones model and that is typical of the Canadian market where a 6-cylinder, 3-speed manual 4-door sedan made more sense than a fully-optioned convertible. The fact that this engine was so low on compression that it wouldn't even start made Jeff's decision to transplant a 318 V-8 out of an '82 New Yorker into the Regent a very easy decision.
The 318 was a great addition to his budget-minded project because it was free-the world's best price tag. Jeff did all the mechanical work himself and he talked his mother into sewing up the seats.
As Jeff reports, "this one's a little more fun as a driver" plus he's had just as much fun doing custom touches on a budget. The steering wheel for example, was salvaged from a '57 Plymouth and the rear taillights on the fins are actually kitchen spice containers. Jeff liked the idea of the vertical lights on the fins instead of the standard horizontal light below the fin.
This car project didn't come easy because as Jeff reports, "it was sitting for a long time, it looked pretty bad, but now it's in much nicer shape". He put a great deal of time and effort into fixing buckled hoods and retrofitting mechanicals to the point where this car can meet its goal of pulling a trailer.
It only had 73,000 miles to begin with and now the '59 Dodge travels 5-6000 miles a year in its new role as a fun, recreational vehicle. Jeff is like most car guys-never satisfied so he'd like to upgrade the 3-speed transmission to better handle the rigors of the trailer hauling role.
In reality, this low budget custom build Plodge actually has a monetary value now-priceless…
Just ask Jeff.
Jeff is a proud member of the world's best fin car forum…http://www.forwardlook.net/
Jerry Sutherland @mystarcollectorcar.com